Araminty Brown
Name
Araminty Brown
Gender
Female
Race
White
Born
Unknown
Occupation
Butcher's Assistant
Height
Unknown
Weight
Unknown
Hair Color
Brown
Eye Color
Blue
Portrayed By
Anne Revere
Araminty Brown, mostly called Mrs. Brown, is the wife of Herbert Brown and the mother of Velvet, Edwina, Malvolia, and Donald Brown, as well as an assistant to her husband's butcher business in the town of Sewels.
Biography
Edit
Early Life/Swimming the Channel
Edit
In her early life, Araminty Brown dreamed of swimming the English Channel. Dan Taylor worked with her on her swimming skills. When she finally partook in swimming it, she received one hundred gold sovereigns for completing it. It was shortly after swimming the Channel that she met Herbert Brown and married him. They had a total of four children together: Edwina, Malvolia, Velvet, and Donald. She worked at Mr. Brown's butcher shop as a bookkeeper, logging sales. When Velvet first mentioned that she wanted to enter the Pie in the Grand National, she supported her daughter, as she had strong beliefs in following your dreams. She had a few small arguments with Mr. Brown, mainly because he thought having his daughter enter The Pie in a race was a bad idea. Mrs. Brown was more proud of Velvet than the horse, as she wanted her youngest daughter's dream to come true.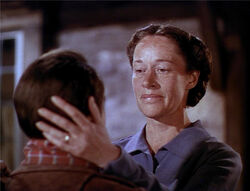 Shortly after the race was over, the newspapers came out saying that a girl (Velvet) was the winning jockey. It was then that she had discovered that it was not
Ivan Taski
who had won, and it was in fact her own daughter. Upon Velvet's arrival home, Mrs. Brown was extremely proud of her.
Traits and Appearance
Edit
Mrs. Brown was a strong-willed woman who wanted her children to follow their dreams and break thought-to-be boundaries. She was kind, but stuck with her beliefs even when Mr. Brown thought otherwise.
Mrs. Brown was portrayed by Anne Revere.
Mrs. Brown is the only character that stays confident in Velvet's dream the entire time.
Mrs. Brown, Mr. Brown, Edwina, Malvolia, and Mi aren't seen or mentioned in "International Velvet".
Anne Revere received an Oscar for her portrayal of Mrs. Brown.
In the book Mrs. Brown has a 15 year old daughter named Meredith giving her five children named Edwina, Meredith, Malvolia, Velvet, and Donald. Meredith isn't seen or mentioned in the movie or the TV series.
In "International Velvet" Mrs. Brown has a granddaughter named Sarah Velvet. Sarah moves from Cave Creek, Arizona to England to live with Velvet and her boyfriend John after Donald and his wife die in a car accident.